Daly City Irrigation Issues? Call in the Pros Now!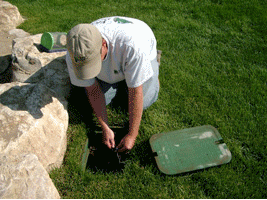 You don't have to suffer a lawn with sporadic dry patches and overly damp zones. If your system is malfunctioning, or it's time for a new one, we can help. No one wants to invest in an automatic sprinkler system and find that it's watering their driveway. Our technicians are experts. If you need Daly City, CA irrigation repair, we offer a range of services to accommodate your needs.

We're versed in wiring issues and conflicts with coverage. We can weather-proof your system with rain and freeze sensors, offer regular maintenance and seasonal inspections, or install a brand new system that is worth every penny you invest in it. Your lawn won't suffer moisture distress with the right service people tending to it.

---
Comprehensive Daly City Sprinkler Repair Services

Look over our service list below, and decide which services are best for you. We're here to make sure your landscaping and masonry needs are covered. If you need something you don't see on the list, ask us about it. Our Daly City irrigation team probably offers it. Give us a call and find out.

We offer:
New installation of sprinkler systems
Sprinkler repair and replacement
Spring and Fall system tune-ups
Inspections
General maintenance
Assessment of sprinkler systems
Adjustments to sprinkler systems
Repair and replacement of sprinkler heads
Raising/lowering of sprinkler heads
Replacement of sprinkler valves
Repair of broken sprinkler pipes
Electronic sprinkler valve location
Sprinkler controller timer replacements
Troubleshooting wiring problems
Troubleshooting for coverage issues
Installation of Rain and Freeze Sensors
Double checking of assembly replacements
Pump system installs
Landscaping services
Masonry services